Recently the US science journal, Bulletin of Atomic Scientists, published an article with the headline "Britain has 139 tons of plutonium. That's a real problem." https://thebulletin.org/2020/04/britain-has-139-tons-of-plutonium-thats-a-real-problem/. It was well written by three German/Austrian academics Christopher Fichtlscherer, Friederike Frieß, and Moritz Kütt who clearly know their stuff.
Below is a photo of the NDA's plutonium store at Sellafield in Cumbria.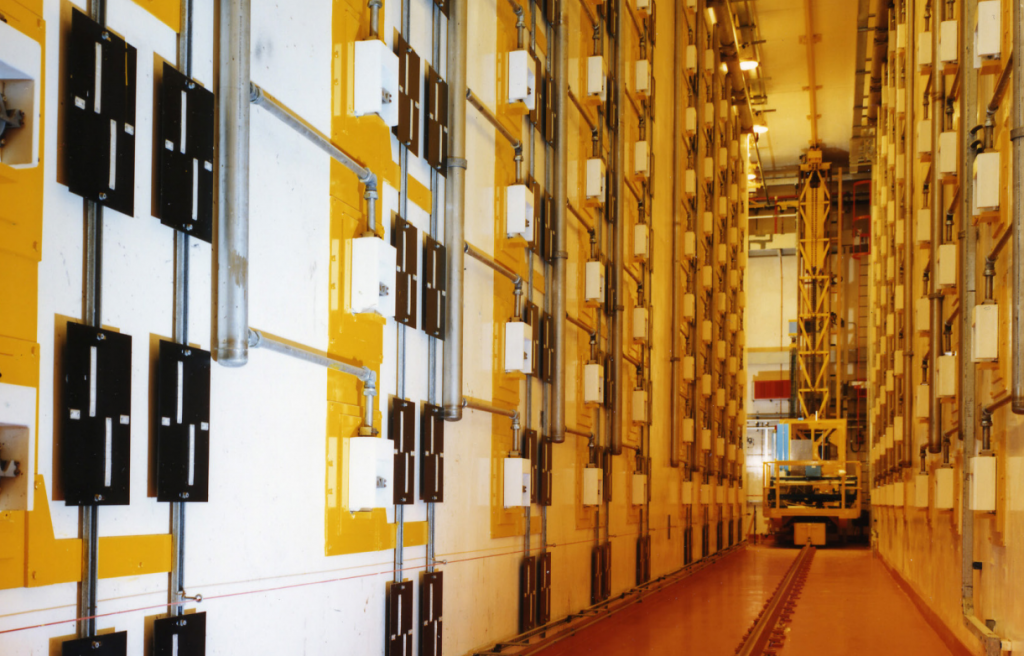 The authors draw attention to a rarely discussed problem – that the UK Government has the world's largest stock of fissile plutonium – the vital ingredient in nuclear warheads. But the UK Government has no need for this plutonium: indeed it is a major headache for the Government, as the authors point out, for several reasons.
First. it is expensive to maintain and guard this huge cache of plutonium – £73 million a year for the next century.
Second, it poses a serious proliferation risk as it could be used to make over 20,000 nuclear warheads.  One warhead could be made from as little as ~5 kg of the main nuclide Pu-239.
Third, Pu-239 is a highly radiotoxic alpha-emitter with a half-life of over 24,000 years.  It has a specific activity 2.3 x 109  becquerels per gram which means that (assuming an isotopic composition is  95% Pu-239) the stores at Sellafield contain over 3 x 1017  Bq of Pu-239.  This is 3 followed by 17 zeroes –  a large amount of radioactivity. The problem is that if a microscopic amount of plutonium in aerosol form – eg a few Bq – were to be inhaled, it could result in a lung cancer.
Fourth, there is a moral dilemma here. The UK Government incredibly continues to believe that this plutonium constitutes a "resource" and is therefore not nuclear waste, despite copious evidence to the contrary as shown by the authors in the BOAS article.  Therefore the UK Government, de facto, is passing this serious waste problem on to future generations. They will not thank us for doing so.
Unwanted plutonium is not a problem just for the UK government, but other Governments as well.  A very recent book from the doyen of academics in this subject, Professor Frank von Hippel at Princeton University, explains this cogently. Plutonium: How Nuclear Power's Dream Fuel Became a Nightmare. by Frank von Hippel, Masafumi Takubo, and Jungmin Kang. See https://www.amazon.com/Plutonium-Nuclear-Powers-Became-Nightmare-ebook/dp/B0832PH5MR
The Nonsense of Nuclear Reprocessing
Some readers may ask – where did all this plutonium come from? It's a long, sad story involving nuclear reprocessing. This is a relic from the Cold War when, in the 1950s and 1960s, the UK Government decided (without Parliamentary knowledge and approval) to embark on a huge programme of nuclear weapons manufacturing and testing. To get the fissile material required for its bombs, it needed to reprocess semi-spent nuclear fuel from its nuclear reactors.
In more detail, "reprocessing" is the name given to the physico-chemical treatment of spent nuclear fuel. It involves stripping metal cladding from spent nuclear fuel assemblies; dissolving the inner uranium fuel in boiling concentrated nitric acid; chemically separating out the uranium and plutonium isotopes; and storing the remaining dissolved fission products in large storage tanks. It is a dirty, dangerous, unhealthy, and expensive process which results high radiation doses to the ~9,000 workers employed at Sellafield. See https://www.ianfairlie.org/wp-content/uploads/2016/09/reprocessing-final-1.pdf
It also creates several hundred radioactive waste streams and processes which result in large discharges of radioactive pollutants to sea and emissions of radioactive gases and aerosols to the atmosphere. Raised levels of childhood leukemias in nearby villages are considered to be linked to the inhalation of these airborne radionuclides.
Sellafield, and a similar plant in La Hague France, are, by some margin, the largest sources of radioactive pollution in the world. For example, the Irish Sea is the most radioactively-polluted sea in the world with about half a tonne of plutonium sitting on its seabed from reprocessing. The collective doses to the world's population from the long-lived gaseous nuclides C-14 and I-129, and from medium-lived Kr-85 and H-3 (tritium) emitted at Sellafield are huge and are estimated by radiation biologists to have caused tens of thousands of early deaths throughout the world.
Thankfully, the UK Government has announced (https://nda.blog.gov.uk/2017/01/24/end-in-sight-for-reprocessing-nuclear-fuel-at-sellafield/) that it will cease reprocessing by the end of 2020. Let's hope they stick to their plans. La Hague, sadly, will continue
However there remains an urgent need for the nuclear waste problem of separated plutonium to be addressed. But, just like coronavirus SARS-CoV-2 in its initial days, the matter is receiving little attention by th Government and will likely continue to do so until a terrorist attack were ever threatened. Let's hope that this does not occur.
With the end of reprocessing nigh, the UK Government should really get a grip on this problem. As a starter, they could peruse the excellent 2015 report "Alternatives to MOX: Direct-disposal options for stockpiles of separated plutonium" by Prof von Hippel http://fissilematerials.org/library/rr13.pdf.